JJS Parts has been supplying replacement poultry parts for over 30 years.  During this time we have seen the mechanical progression of poultry  spares evolve  and have had the ability to adapt to new concepts.
JJS Parts Ltd supply replacement parts for the leading OEM brands.  Meyn / Stork / Linco / Catturuzzi / Systemate.
We work very closely with our European manufacturer RODON INTERNATIONAL to offer a wide range of spares, from overhead Chain and Trolley to Circular Knives. JJS Parts are the exclusive supplier of RUD super calibrated overhead chain within the UK. You can obtain more information and a technical data sheet on the below link.
http://www.rodon-int.com/overhead-conveyor-rud-chain/
JJS Parts can also offer replacement picking fingers for various types of machines. These fingers are exclusively mixed with natural, first quality rubber from Malaysia with a variety of hardness and colour if required, These are FDA approved.
Please take a look at our Manufacturers website for more information.
Overview of parts available
– Overhead Chain
– Tie Chain
– Chain Joiners
– Chain and Trolley Complete
– Corner Wheels
– Elevations
– Shackles
– Drop Rods
– Sprockets / Chain
– Gears
– Pulleys
– Bearing Housings
– Shafts
– Belts
– Finger Plates
– Picking Fingers
– Finger Puller /Cutter
– Belts / Bearings
– Circlips /Seals /Spacers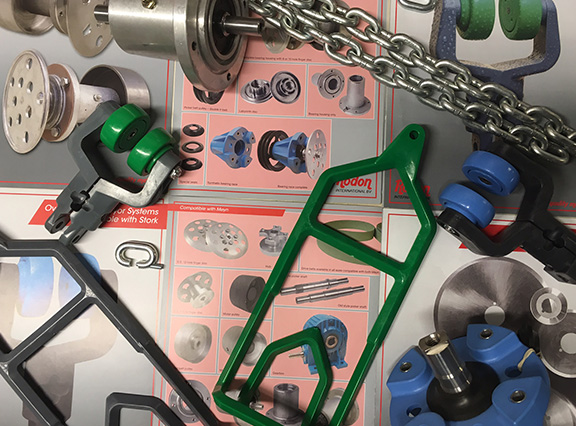 – Cam Wheels
– Cam Rollers
– Cam Units
– Gliding Rods
– Springs
– Vent/Circ Blades
– Bushes
– Bearings/Seals
– Hoses
– Hock Cutter
– Neck Cutter
– Vent Drill
– Lung Gun
– E.V Fork